Decoration Sale! March 22nd - April 5th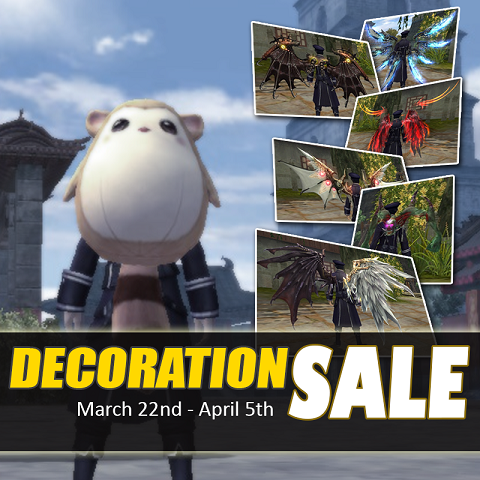 For two weeks, we are featuring great deals with decoration boxes!

Go To the ITEM MALL>BOXES>DECORATIONS to see these deals!
Lilith's Box; Lilith's Schatulle; Europe Only (9210)

Alishan's Devastation;Traumwelt-Schatz; 10684 (Europe)

Heaven's Light; Himmelslicht; Europe (26998)

Garuda's Legendary Feathers; Garudas sanfte Federn; Europe (27776)

Flame Sphere; Flammensphäre; Europe (26734)

Fei Yue's Armament

Imperial Dragon Orb
A Decoration Bundle is also available!

This bundle contains all the boxes above together with two of these exclusive boxes:

Check this out on ITEM MALL>SALES
Sealed Goonzu Silk Bag;Versiegelter Goonzu-Seidenbeutel;Europe Only (27942)

- Contains Random Mercenary packages or 100 upto 1000 Atlas Ores!

Raccoon Bag; Versteinerter Waschbär; 10544 (Europe)

- May contain Cute Raccoon Bags!

Cursed Tombstone

- May Contain Arms of Blight Decoration



This offer will only last for two weeks! So get them while it last! Good luck Atlantian!