The Hainan Candid Tourist Event!



There is a special tourist who has arrived at Hainan Island who is taking pictures of random fishermen. Anyone who catches his eye will be given a reward and will be featured in our Facebook page!



Event Duration:

August 3rd to August 17th (Same time with the Fisherman's event)



Mechanics:

1. The "Tourist" will be wandering around randomly on every server without prior notice.

2. The tourist chooses a player, takes his picture and uploads it directly on the Facebook Fanpage!

3. The lucky player will receive 50 Fisherman's Warm Heart and will be sent directly on their mailbox.

4. If the player has a "Platinum Bait" on his inventory, they will receive double the hearts! (A total of 100 Fisherman's Warm Hearts)



So, are you hot enough for the tourist to notice you? Wear your best costumes because he might be there taking your picture! Good luck, Atlantian Anglers!



Have a great day Atlantians!

----------------------------------------------------------
Weekends Item Giveaway!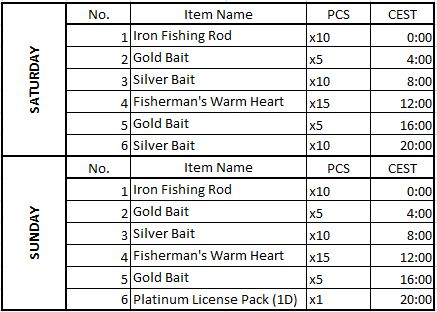 See you all inside the game everyone!

VALOFE Operation Team